To view online document printing prices, select your print option below. We specialise in all kinds of printed documents and offer pickup & delivery.

Description
FAQ
Templates
Description
Document Printing
We offer document printing and binding within 24 hours in the Brisbane Area. We print any type of document including Business Reports, Letters, Resumes, Test Papers and Training Docs. If you require tab printing please contact the store. If you only require printing and or printing and binding you can view our prices online. Scanning options are also available. We are located at 2-101 Newmarket Rd in Windsor, just 5 minutes outside of the Brisbane CBD.  With over 30 years experience in print, many Brisbane customers trust us and we get their orders printed on time.
We use high quality digital print presses and accept multiple file types, pdf files as our preferred file upload.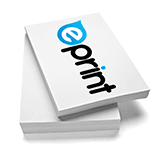 Document Printing Binding and Finishing Options
We can spiral bind, comb bind or wire bind your documents. Saddle Stitched booklets and Perfect Binding are also available
We have machines for Creasing, Folding, Hole punching, Stapling, Gluing and Guillotining. We can provide your printing from your hard copy documents but for our online ordering you need to have a pdf file ready for uploading.
Booklet printing and Perfect Bound printing are other options you can choose.
Cheapest way to print documents:
The cheapest way to print your documents no matter what size is with ePrint. We offer the best prices Australia wide on one offs and bulk document printing. We offer lots of different finishing options to keep your printed documents in control from binding and stapling.
There is no limit to the amount of pages we offer on document printing. You can print research papers of 1000s of pages and still be in budget. Go to our multiple document option for large runs which allows you to split your document over multiple books. 
Bound Documents: Multi File
Stock Options
For colour documents, we recommend that a minimum gsm of 100gsm is used. This prevents the image on the next pages showing through. we have added paper stock options of up to 350gsm in both gloss and matt, to give you a larger range of paper choices.
Many of our real estate customers ask for a square paper size of 210 x 210mm and we print onto a 200gsm paper stock with a 350gsm cover.
Online Document Printing
Get instant prices for online document printing. We try to create online calculators for as many of our products as we can, however if you can not find the online document printing product that you are after, please click on the Request Quote button.
We will send you a quote within 24 hours. You can also drop into store and place your order but if you are only after a couple of prints, Officeworks may be a cheaper alternative.
FAQ
Templates