Get quality letterhead printing  with Eprint online. We can print for Inkjet and digital printers. Select a print option below to begin.
You may also be looking for...​
Description
FAQ
Templates
Description
Letterhead Printing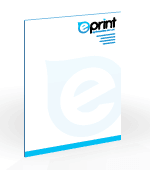 Letterhead Printing Brisbane – 100gsm
Your letterhead is important to your business. Letterhead printing of the highest quality by Tjs eprint Printing, located in Brisbane and 1st choice when it comes to cheap letterhead printing. We are able to create letterhead, business cards notebooks and with comps slips, providing you with a complete printing service that produces a professional standard of product.
If you would like to speak to someone regarding letterhead printing you can call us on 07 3252 3104. We also deliver letterhead to all Brisbane suburbs.
If your artwork is A4 plus a 2mm bleed,
Text converted to outline CMYK mode
and no crop marks, we can send your job to print without delay.
When ordering your letterheads, these are somethings to consider:
Your Personal printer
Will I be printing on an Inkjet or Digital Printer?
Sides
Does your original have a second side?
Shipping
This section can be skipped if you want to collect your order from our Windsor Office. It is a guide only for delivery charges
Uploading your Design
You must upload a multipage pdf file. If you can not convert your file to a pdf file, please contact us and we may be able to do this for you 🙂
Customer Comments
After uploading your file/files at the bottom of the page, a customer comments box will appear allowing you to advise us of the amount of sets required
FAQ
Templates