Impress your prospective client with well crafted marketing packages – wrapped perfectly inside an ePrint Presentation Folder.

You may also be looking for...​
Description
FAQ
Templates
Description
Presentation Folder Printing Australia
Impress your prospective client with well crafted marketing packages – wrapped perfectly inside an ePrint Presentation Folder. ePrint offer both digital and offset quality custom printed presentation folders. Digital printing can be ordered for any quantity and with variable data, these folders can be delivered anywhere in Australia on shorter turn around. Offset printing will be shipped within 3-5 days.
These Presentation Folders are great for holding client documents or giving away hand out marketing packages to customers.

The business card slot allows you to clip in a standard business card with contact information, enhancing the experience for your customers and clients.

Printed: single or double sided.
Presentation folder can fit 20 A4 pages or up tp 40 pages when you select a 5 mm gusset option.

The above 300gsm card stock ensures internal contents are well protected. Select 350gsm or 400gsm for sturdier folders.

Select from matte or gloss finish, allowing you to personalize the style of your folders with high colour pop.
Our custom printing service is well known in the Brisbane corporate and small business world, but we have seen significant growth Australia wide – registering new clients online every day. Our custom marketing print products are helping other Australian businesses grow with our fast service, attention to detail and impressive colour output. With not only a fast turn around for print, we also cut down on the time it takes to engage in back and forth with different suppliers. Get all your presentation printing needs for a last minute corporate event or client meeting – all in one place…
Presentation Folder contents also available online: Business Cards, Flyers,  Brochures, Booklets, Magazines and/or point of sale graphic productions like showroom stickers, signs and banners … Bundle & Save – ePrint online.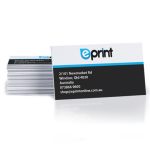 Business Cards
Custom Presentation Folders with Pockets
Our presentation folders are a professional alternative to blank manilla folders. Presentation folders are fully custom printed, enabling your design and marketing department to create impressive first glance displays with vibrant designs and colour. We can print these in high gloss to allow for specific branding designs specific to the product or presentation you're selling. Our pocket folders come in different shapes for holding different types of documents and marketing materials, but most importantly they include a business card insert for follow up to the exhibition. 
Standard flat folders hold up to 20 sheets for A4 paper ( based on 80 gsm.  These come pre-scored for easy assembly and can be printed single and double sided. Thicker pockets folders can be made when selecting a shape with an included gusset option. Gussets add 5mm, 10mm or 20mm thickness to the available space on the inside of the folder contents.
Folders are printed on card stock (above 300gsm) which allows for sturdier assembly and protection for the internal documents. 
FAQ
Templates