To view perfect bound book prices, select and option below.
You may also be looking for...​
Description
Perfect Bound Books Printing
Perfect bound books offer a professional finish for your year books with a soft cover.
Perfect Binding is the finish we would recommend for any books with over 50 pages. Like year books and annual reports.
Print from 10 books up to 100 books including binding within 3-5 working days.
You can choose from Colour and Black and White, A4 and A5, Budget or Premium Quality.
Our Budget quality is printed on 100gsm paper for the internal pages and a 250gsm celloglazed cover.
Our Premium quality is printed on 150 gsm paper for the internal pages and a 300 gsm celloglazed cover.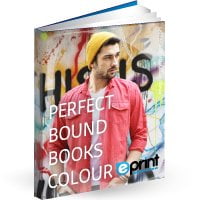 Perfect Bind Books Time Frames
It is possible to have your books printed within 24 hours however the longer time frames the lower the price. Please contact us to check on work loads before you place your order with us for 24 hour orders.
FAQ
When will I receive my product?
When you are on the shop page you can select a time frame for it to be printed in and you will receive the product within that time. Allow for extra delivery time if you selected delivery.
Can I pickup?
Yes! We are at 2/101 Newmarket Rd and have free customer parking.
Can I pay online?
Indeed. You can pay through our online store.
Templates