Sign Boards: Corflute, Foamboard, PVC or Aluminium sign board printing with ePrint. To view prices, select a sign board print option below.

You may also be looking for...​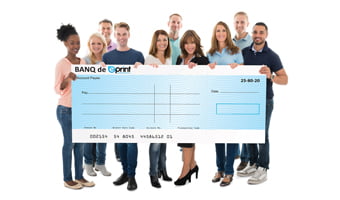 Novelty Cheque Printing
ORDER NOW FOR YOUR CORPORATE FUNDRAISER EVENT
Description
FAQ
Other Popular Products
Description
Sign Board Printing Brisbane
We print your images into Corflute Sign Boards or Foamcore Sign Boards or PVC Sign Boards. Chose your own time frame from 1, 3 or 5 business days.

Printed Corflute Sign Board Printing
Corflute signs come 5mm thick. They are moulded from plastic which makes them good for humid applications. There is a line that runs from top to bottom or left to right, spaced around 3cm apart.
Corflute signs are suitable for outdoor usage
Printed Foam Board Signs
Foamcore boards come in White and Black and are 5mm thick. This is a lightweight material used for Architectural competitions, wall signage and construction displays. Unlike corflute board, it has a flat surface. As foam board is light weight it can have a tendency to bend and is easily damaged. Foam bord signs are only suitable for internal applications.
Printed Aluminium Signs
Alupanel is a form of aluminium also known as Dibond. It comes in a 3mm thickness. It is much
For Pricing on all boards select a board type above
Our sign boards and display boards can be printed to any size
They can be ready within a few hours but most jobs are complete within a day
We use dye based ink for indoor signs, and UV inks for outdoor signs.
Free customer parking for collection, Cheap deliveries to Brisbane areas.
Packed and sent via Couriers, Pay by credit card upon collection or prior to delivery
Contact Us for a quote, See below for board Types.
A wide range of Sign boards Brisbane and Display boards Brisbane are available including: Foamcore, Corflute, Gatorboard, Kraftboard, Signwhite, Colorbond, Acrylic, Perspex, Expanded PVC to name a few.
We make presentation's look their best mounted to boards, Foamcore boards would be the most popular and cheapest, A couple of good points are: They are so light, making them easy to cart around to meetings, presentations & trade shows. They can easily be stuck to a wall using hangers or Velcro.
Now offering Wayfinding signs Brisbane
FAQ
Other Popular Products